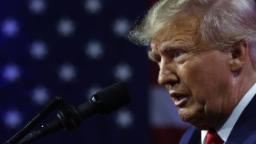 CNN
 — 

Former President Donald Trump will travel to Iowa on Monday for the first time since announcing his third White House bid as Manhattan prosecutors near a decision on whether to charge him over his alleged role in a hush money scheme and cover-up.
His visit to the crucial state – which hosts the first GOP contest of the 2024 nominating calendar – comes on the heels of trips by potential and announced primary challengers, including Florida Gov. Ron DeSantis, who made his Iowa debut on Friday, and former United Nations Ambassador Nikki Haley, a declared candidate who also campaigned in the state last week.
DeSantis, who is seen as Trump's chief potential rival for the Republican nod at this early stage of the campaign, doesn't plan to make a formal announcement on his political future until May or June. But his Iowa visit, which was followed by a stop Saturday in early-voting Nevada, sent a clear signal about his intentions.
In Davenport, Iowa, to promote his new book, DeSantis didn't mention Trump by name, but he contrasted his administration in Florida with the chaos and leaks that at times engulfed the Trump White House.
"There's no drama in our administration," DeSantis said. "There's no palace intrigue. (My staffers) basically just sit back and say, 'OK, what's the governor going to do next?' And we roll out and we execute."
Trump is slated to deliver remarks Monday in Davenport focused on his 2024 education platform as well as trade, energy and agriculture, according to a person familiar with the speech.
Education has become a political flashpoint and is expected to take center stage in next year's presidential election. Trump has called for cutting federal funding for schools that include "critical race theory, gender ideology, or other inappropriate racial, sexual, or political content onto our children." He has suggested that parents select school principals through a "direct election" process and has threatened to end federal funding for schools that teach "a child that they could be trapped in the wrong body" if he were to win another term.
In Davenport, Trump is also expected to tout the $28 billion in federal aid his administration paid out to farmers who were hurt by his trade war with China as he tries to appeal to the key Iowa agricultural industry, the person familiar with the speech said.
Ahead of his speech, Trump lashed out at DeSantis on his Truth Social platform over DeSantis' support as a congressman of a 2017 bill that would have ended a federal program that requires transportation fuel to contain a certain percentage of renewable fuels, including ethanol, a major industry in Iowa.
But Trump's own record on ethanol is mixed. He received backlash from farmers when he was president after he granted waivers to small refineries temporarily exempting them from laws that require them to blend biofuels like ethanol into their gasoline. Leaders of corn grower organizations sent Trump a letter in response, saying the waivers had reduced demand for their crops.
Trump's Iowa campaign stop follows an invitation by Manhattan prosecutors for him to appear before a grand jury, offering the clearest indication yet that a decision on charging him could come soon. The investigation relates to a $130,000 payment made to adult-film star Stormy Daniels in late October 2016, days before that year's presidential election, to stop her from going public about an alleged affair with Trump a decade earlier. Trump has denied having an affair with Daniels. Michael Cohen, Trump's onetime personal attorney, met with members of the Manhattan district attorney's office on Friday.
Trump would be the first former president ever indicted and the first major presidential candidate under indictment if charged.
He remains defiant in the face of the Manhattan investigation and several other federal and state probes and has said he "wouldn't even think about leaving" the 2024 race were he indicted.
At the Conservative Political Action Conference earlier this month, Trump pledged to his supporters: "I am your warrior. I am your justice. And for those who have been wronged and betrayed: I am your retribution."
As Trump's campaign operation and strategy begin to take shape, he announced his first team hires last month for the Iowa caucuses, who included Eric Branstad, son of former Iowa Gov. Terry Branstad, and state Rep. Bobby Kaufmann, the son of Iowa GOP Chair Jeff Kaufmann.
Trump campaign officials know they have their work cut out for them in a state where a win or a loss could set the tone for the entire primary season. But Trump's team believes they will have an advantage over other 2024 hopefuls because of the data they've collected on Iowans – both rallygoers and donors – during the dozens of times Trump has visited the state since the launch of his first presidential campaign in 2015.
"Caucuses are won by organization on a precinct level – it's identifying the people and then turning them out – and that's what we plan to do," one Trump adviser told CNN, adding that the team would be poring over that data in the coming months to identify potential Trump voters and their precincts and make sure their voter registrations are up to date.
Trump will likely need to ramp up his outreach to evangelical Christian voters – who helped deliver the state for him in the 2016 and 2020 general elections – after lashing out earlier this year at religious conservatives who have declined to endorse his third presidential campaign
"Nobody has ever done more for Right to Life than Donald Trump. I put three Supreme Court justices, who all voted, and they got something that they've been fighting for 64 years, for many, many years,'" Trump told conservative journalist David Brody in a January podcast interview, referring to the Supreme Court's overturning of federal abortion rights in its Dobbs v. Jackson Women's Health Organization decision last summer. "There's great disloyalty in the world of politics, and that's a sign of disloyalty."
Bob Vander Plaats, the president of the influential Christian group The Family Leader, told CNN that the 2024 political environment was different from that of 2016 and "people are more interested in a vision for the future than a complaint about the past."
"The people in the faith community are very grateful for Trump and his presidency but their loyalty is to one, and that's not Trump, it's to God," he said. "It's not just people of faith – Americans are looking to turn the page. There's a point where people are just exhausted with former President Trump."