Cristiano Ronaldo said that Portugal were "too united to be broken by outside forces" after it was reported he had threatened to walk out on the squad after being benched against Switzerland.
The 37-year-old striker was dropped for the last-16 clash earlier this week, with his replacement, Goncalo Ramos, netting a hat-trick in a scintillating 6-1 victory against Switzerland.
Ronaldo's replacement shines instantly | 00:42
A report from Portuguese newspaper Record said the striker had considered walking out on the team during a tense conversation with coach Fernando Santos.
But the former Real Madrid and Manchester United forward took to his social media accounts on Thursday to stress the squad was rock solid.
"It's a group too united to be broken by outside forces," he said.
"A nation too courageous to let itself be frightened by any adversary. A team in the truest sense of the word, which will fight for the dream until the end."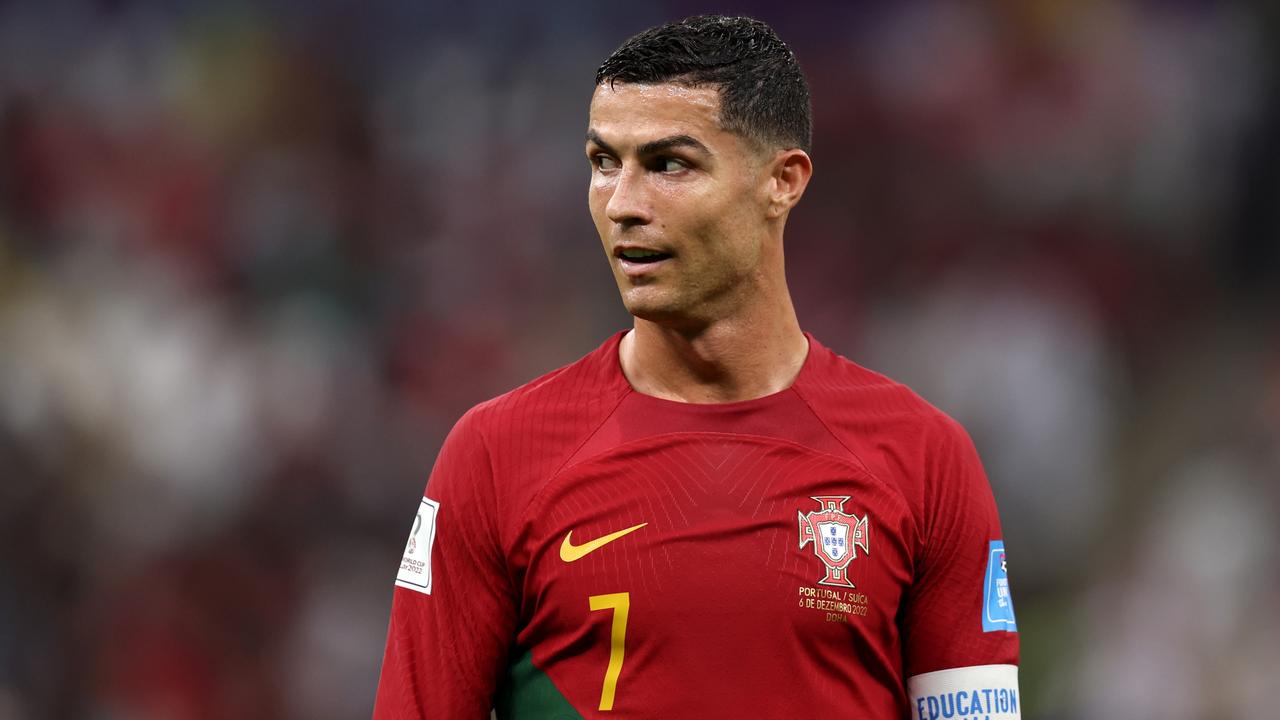 The Portuguese Football Federation (FPF) earlier denied the striker had threatened to leave.
"The FPF clarifies that at no time did the captain of the Selecao, Cristiano Ronaldo, threaten to leave the national team during the stay in Qatar," said the federation.
"Every day Ronaldo is building up a unique track record at the service of the national team and the country, which must be respected."
The FPF said Ronaldo's substitute appearance against Switzerland showed his commitment to the cause.
Portugal face Morocco in the quarter-finals, where Ramos may again get the nod over Ronaldo, who is the most-capped Portuguese player and the top men's international goalscorer of all time.
"I think what Cristiano said is crystal clear, he's totally right, nothing from the outside can break us apart," Otavio told reporters at the team's camp in Doha.
"We're very tight-knit, we're just focusing on playing for Portugal and winning."
The midfielder admitted it was normal for Ronaldo to be unhappy at being benched.
"I think everybody is bitter when they don't play, so that's perfectly natural," he said. "We're still very much united and focused.
"If you look at the images, the pictures and the videos, you will see that Cristiano Ronaldo's heart and soul is in the national team, he's supporting the team regardless of if he's on the bench or not."
The five-time Ballon d'Or winner trained with his teammates on Friday after working in the gym on Thursday with the players who started against Switzerland.
'UNBELIEVABLE' RESPONSE TO REPORTS OF MIGRANT WORKER DEATHS
World Cup host Qatar is investigating the death of a migrant worker, an official said, after reports he died at a training base during the ongoing football tournament.
The death of a Filipino in his 40s was first reported by The Athletic sports website and later confirmed by the Philippines' Foreign Ministry.
The Athletic said the man fell off a ramp while repairing lights at a resort used as a training base by Saudi Arabia's national football team.
The report said he had not been wearing a harness. It did not specify the date of the accident. Saudi Arabia's run at the tournament ended on November 30 with a loss to Mexico.
"The incident is being investigated by the Qatari authorities," a Qatari government official said on condition of anonymity.
"If the investigation concludes that safety protocols were not followed, the company will be subject to legal action and severe financial penalties."
Bono's heroics knock Spain out of WC! | 00:40
Manila's Foreign Ministry told AFP the man died "while working at a resort in Mesaieed," south of Doha.
Diplomats were "working with legal authorities to ascertain more details", the ministry said in a statement, adding it would facilitate "the earliest repatriation" of his body.
World football's governing body FIFA said it was "deeply saddened by this tragedy".
"As soon as FIFA was made aware of the accident, we contacted the local authorities to request more details," it said in a statement.
Qatar's World Cup organisers, the Supreme Committee for Delivery and Legacy, said the site of the accident was not under its jurisdiction.
The man who died — a contractor — was also "not under the remit" of the committee, it said in a statement.
Qatar 2022 chief executive, Nasser Al Khater, meanwhile responded by criticising journalists for questions over the reported death count.
"We're in the middle of a World Cup," he said, per The Guardian.
"And we have a successful World Cup. And this is something you want to talk about right now? A worker died, our condolences to his family but it is strange that is something you want to focus on as your first question.
"Look, workers' deaths have been a big subject during the World Cup. Everything that has been said and everything that has been reflected about workers' deaths has been absolutely false.
"We're a bit disappointed that the journalists have been exacerbating this false narrative. And honestly, I think a lot of the journalists have to ask themselves and reflect on why they've been trying to bang on about the subject for so long."
Migrant workers make up more than 2.5 million of Qatar's 2.9 million population and labour conditions have been strongly criticised — particularly in the lead-up to the World Cup.
Last month, Qatari authorities said 414 migrant workers died in labour accidents in the country between 2014-2020.
Under pressure from international unions, Qatar has undertaken labour reforms that have been praised. These include introduction of a minimum wage of 1,000 riyals ($260), and restriction of hours in which workers can go out in extreme heat.
The World Cup began on November 20 and ends on December 18.
Spain unravel as Morocco advance to QF | 02:13
ENGLAND TEAMMATES HIT BACK AT MOCKERY OF MAN UTD'S MAGUIRE
England midfielder Kalvin Phillips has backed team-mate Harry Maguire as the much-maligned centre-half prepares for the ultimate World Cup quarter-final test against France.
Manchester United defender Maguire has started just three games in the Premier League this season due to a combination of injury and the arrival of Argentine Lisandro Martinez, but has been solid so far for England in Qatar, where he has started every game.
It marks a stark turnaround in fortunes for Maguire, who became the butt of many jokes on social media after a bad run of form last season.
Phillips said he believes much of the Maguire mockery is wrong.
"I know Harry Maguire has not played as much football this season as he probably would have liked this season and he does get a lot of stick, which I think is very undeserved," Phillips told a news conference.
"I think he's a top professional and a great footballer and all you have to do is watch England in major tournaments and when he plays for Manchester United, I think, he's one of the best defenders and I think for England he's been one of the top defenders for a long time and especially in tournament level," he added.
Phillips feels Maguire, who is up against France's record goalscorer Olivier Giroud, is a player that England can rely on.
Rashford leads England to win over Wales | 01:18
"He's always been that player that when we've got set pieces or when we need to block or when anybody needs to make a challenge, he's always the first one to do it.
"And he's always the first one to get his head to the ball. Obviously, he's scored some very important goals as well," he said.
"I think a lot of people…because, he's been obviously mocked quite a lot the past few years, I think he's just the first one they go to if anything bad happened in the England team, he'd be the first one for anything to be said about.
"It's very undeserved. And, like I said, I think if you look at the major tournaments he's played in and how well he's done then, you can't really mock him because he's been unbelievable," Phillips added.
The Manchester City midfielder also had plenty of praise for his team-mate and Maguire's central defensive partner John Stones.
"I believe that John is one of the best centre-halves in the world right now.
"I'm not just saying that because he's with England or he's my friend or plays for Manchester City. I genuinely believe that – he is one of the best centre halves in the game at this moment in time. He's very composed on the ball, one of the best central defenders you could have distributing the ball.
"His partnership with Harry is an amazing partnership as well – they understand each other so well and feed off each other, help each other out. As of now, it's probably the best centre-half partnership in the World Cup."
BRAZIL COACH SLAMS CRITICS OF GOAL CELEBRATIONS
Brazil coach Tite has hit back at criticism of his players' dancing goal celebrations in their World Cup win over South Korea, dismissing suggestions they showed a lack of respect.
The tournament favourites produced some carnival football as they crushed the Koreans 4-1 and celebrated their goals with choreographed moves, while even Tite himself joined in at one point.
The celebrations divided opinion outside Brazil and the dancing by Neymar and his teammates has been one of the main talking points going into Friday's quarter-final clash with Croatia in Doha.
Richarlison dances to lovely team goal! | 00:29
"This is not my national team. It is the Brazilian national team for which I have responsibility as coach," Tite said when asked about the celebrations at a press conference.
"I am sorry for people who don't know the history and culture of Brazil and our way of being."
The 61-year-old, who is at his second World Cup as Brazil coach and is set to step down at the end of the tournament, hinted that he was not comfortable joining in the dancing but admitted he wanted to have a connection with his players.
"I am 61 and these players could almost be my grandsons but I have a connection with them," he said.
"If I have to dance I will dance, although I will do so subtly and I asked them to hide me. It is not my way."
The pressure on Brazil's new generation of stars is enormous as they look to win the World Cup for a record-extending sixth time, two decades after the Selecao last lifted the trophy in Japan in 2002.
The question now is whether they can continue to play with the joy they displayed against South Korea as the tournament in Qatar reaches the business end, but Tite said it was all about the personality of his players.
Brazil thrash South Korea to reach QFs | 00:55
"It is the identity of Brazilian football and of the generation that has emerged," said the veteran coach, who won the Club World Cup in charge of Corinthians a decade ago.
"We give them the confidence so they can go out and produce their best. These are the characteristics of our players, but beyond that pressure, you need courage to play this way." While Neymar and full-back Danilo returned from ankle injuries to play against South Korea, Brazil have been sweating on the fitness of Alex Sandro for the meeting with Croatia.
The Juventus left-back has missed the past two games in Qatar with a muscle injury.
"It looks unlikely that he will play because he has not yet done enough work on the training ground," Tite admitted, adding that a decision would be taken after Friday's session.
If Alex Sandro cannot play, Danilo will continue at left-back, with Real Madrid's Eder Militao, usually a centre-back, again filling in on the right.