Many social media users took to Twitter to slam the Academy after a group of late actors were missing from the on-air tribute.
Not unlike previous Oscar ceremonies, several stars were left out of the 2023 Oscars In Memoriam segment on Sunday night. And just as in the past, fans expressed their anger and disappointment over the omissions on social media.
Many social media users took to Twitter to call out the Academy after late actors Anne Heche, Tom Sizemore, Charlbi Dean, Paul Sorvino, Leslie Jordan and more stars were missing from the on-air tribute, which included a performance by Lenny Kravitz.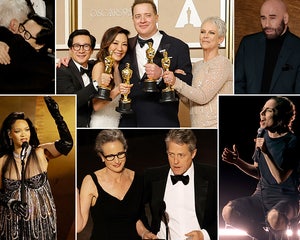 Getty
Oscars 2023: The Most Viral Moments of the Night

View Story
Heche, Sizemore, Dean, Sorvino and Jordan all appeared in several films during their careers, with Dean even starring in a 2023 Best Picture-nominated film, "Triangle of Sadness."
Among those omitted in the segment were Gilbert Gottfried, Kevin Conroy and Sacheen Littlefeather.
Despite this, many angry Twitter users slammed the Oscars for leaving out several beloved actors during the broadcast.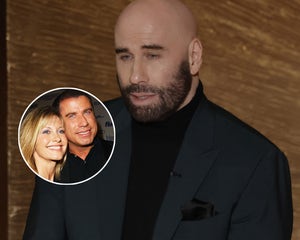 Getty
John Travolta Chokes Up Honoring Olivia Newton-John Ahead of Oscars In Memoriam

View Story
"Can anyone explain why this happens every year?," wrote actress Lydia Cornell. "Oscars In Memoriam Segment Missing Paul Sorvino, Anne Heche, Tom Sizemore, Leslie Jordan and Charlbi Dean From Oscar-Nominated 'Triangle Of Sadness.'"
Meanwhile, a tweet about Dean — which has over 40,000 likes — read: "she was the lead in a best picture this year and you dont add her to the in memoriam?!?! RIP charlbi dean." Dean passed away in August at the age of 32 from a bacterial infection.
"The Oscars should be ashamed not including the deeply talented, too often underrated Anne Heche in their In Memoriam montage," a person said of Heche, who died in August at 54 following a car crash.
Another Twitter user described Heche as "one of the most daring actors and a true trailblazer," writing that she starred in "over 30 feature films."
See how Twitter reacted to stars being left out of the on-air tribute in the tweets, below.
she was the lead in a best picture this year and you dont add her to the in memoriam?!?! RIP charlbi dean pic.twitter.com/TUEYoG4CSZ

— sugar lips (@iamsugarlipsss) March 13, 2023
@iamsugarlipsss
Can anyone explain why this happens every year? Oscars In Memoriam Segment Missing Paul Sorvino, Anne Heche, Tom Sizemore, Leslie Jordan and Charlbi Dean From Oscar-Nominated 'Triangle Of Sadness' pic.twitter.com/5eT09DGnU9

— Lydia Cornell (@LydiaCornell) March 13, 2023
@LydiaCornell
did the in memoriam really forget charlbi dean

— iana murray (@ianamurray) March 13, 2023
@ianamurray
Pretty wild how Charlbi Dean from best picture nominee TRIANGLE OF SADNESS was missing from the In Memoriam segment: pic.twitter.com/Eqk2oCJJ6g

— Reyna Cervantes (@Jfcdoomblade) March 13, 2023
@Jfcdoomblade
where was charlbi dean in the in memoriam?? she's literally in a best picture nominee

— ً (@filmlamet) March 13, 2023
@filmlamet
The Oscars should be ashamed not including the deeply talented, too often underrated Anne Heche in their In Memoriam montage. #Oscars pic.twitter.com/maELOcWL9M

— Dustin Putman (@DustinPutman) March 13, 2023
@DustinPutman
nominating triangle of sadness 3 times and leaving out of the in memoriam charlbi dean feels icky.

— Kenzie Vanunu ⚡️🦴 (@kenzvanunu) March 13, 2023
@kenzvanunu
Because The Academy left her out of their #InMemoriam; over 30 feature films, half of which were studio films. #AnneHeche, one of the most daring actors and a true trailblazer. #Oscars2023 #AcademyAwards2023 pic.twitter.com/ZpiLYCJzen

— Adam J. Yeend (@AJYeend) March 13, 2023
@AJYeend
THEY LEFT PAUL SORVINO OUT OF THE IN MEMORIAM?!

WHAT? #Oscars

— Yashar Ali 🐘 یاشار (@yashar) March 13, 2023
@yashar
No Anne Heche? We honor her passing.

— Ione Skye (@IoneSkye1) March 13, 2023
@IoneSkye1
gilbert gottfried died and nobody said shit?

— CHIKA 🌪 (@oranicuhh) March 13, 2023
@oranicuhh
I was surprised no Anne Heche or Tom Sizemore. I know he was know for being a comedian but Gilbert Gottfried was in a bunch of movies.

— Michael Aria (@fatherof5Arias) March 13, 2023
@fatherof5Arias
The fact that Sacheen Littlefeather wasn't even mentioned during the In Memoriam segment is shameful. Shame on the academy #Oscars

— XJoe360 (@Joe360X) March 13, 2023
@Joe360X
Wow, Oscars In Memoriam Segment Missing Paul Sorvino, Anne Heche, Tom Sizemore, Leslie Jordan & KEVIN MF CONROY

— MrGrantGregory (@MrGrantGregory) March 13, 2023
@MrGrantGregory
The Oscars have really dropped the ball with their In Memoriam presentation over the last decade.

Go back to moving clips, not photos, and no need to have an on-stage performer at all.

(Leaving Anne Heche and Tom Sizemore out was baffling)

— Rhett (@dialmformovies) March 13, 2023
@dialmformovies
Of course Anne Heche, Paul Sorvino, Tom Sizemore were also not in there. In a show that is comically and often needlessly overlong, is it so much to add in an addition 10/15 seconds to that segment and ensure there are so many people omitted?

— Stefan Pape (@stefanpape29) March 13, 2023
@stefanpape29