Socceroos boss Graham Arnold has lifted the lid on the heartbreaking and harrowing moment he informed star winger Awer Mabil his sister had passed away in a car crash, describing it as "one of the saddest nights" in his life.
Arnold was barely six months into his second stint as the national team boss when it came time to defend Australia's Asian Cup crown in January 2019.
Watch the world's best footballers every week with beIN SPORTS on Kayo. LIVE coverage from Bundesliga, Ligue 1, Serie A, Carabao Cup, EFL & SPFL. New to Kayo? Start your free trial now >
After a shock loss to Jordan in the first group game, the Socceroos beat Palestine and Syria to book a spot in the knockout stages of the tournament.
A narrow win on penalties lifted Australia over Uzbekistan in the Round of 16 to book a date with the UAE in the quarterfinals.
Despite peppering the opposition goal with shots and having the lion's share of possession, the Socceroos' title defence came to a shuddering halt in a 1-0 defeat thanks to Ali Mabkhout's 68th-minute strike.
As Arnold made his way to comfort his dejected troops, he eventually got to Mabil, who was laying on the field.
"I went on, 'Come on, Awer, you'll be right, it's only a game of football, mate. We'll learn from this,'" Arnold said on the Fox Football Podcast.
CLICK HERE TO LISTEN TO ARNOLD ON THE FOX FOOTBALL PODCAST!
Sporting score stunning equaliser! | 00:55
MORE COVERAGE
Gunners are gone! Absurd halfway strike, missed penalty dashes Arsenal's Europa hopes
Liverpool's UCL dream comes crashing down as Benzema goal proves to be final nail in coffin
Does CL have mercy rule? Haaland scores FIVE, equals record in brutal Man City bloodbath
"He was looking up at the stars, looking up at the sky. He said, 'Arnie, something's happened. Something's not quite right.'
"I looked at him and said, 'Come on, get up, you'll be right.' He said, 'No, no, something's not right.'
Once the entire squad had returned back to the team hotel, it was then that Arnold got a phone call from Adelaide: the FA had just received word Mabil's sister had tragically been killed in a car accident.
Arnold then made his way to Mabil's room at the hotel where he had to break the most heartbreaking of news, although he "didn't know if he (Mabil) knew or not."
"I knew that when I knocked on the door, he'd be looking at me and I'd be looking at him like, OK, what's his reaction going to be," Arnold said.
"If he's in tears, then he knows. If he doesn't, well then he doesn't know.
"I knocked on the door, he opened the door. I said, 'Awer, how are you mate? Are you OK?'
"He just looked at me and said, 'I'm pissed off because we lost.' I said, 'OK, well, we can get over that.'
"I just grabbed him, gave him a hug and told him his sister had just been killed in a car accident. He fell to the ground.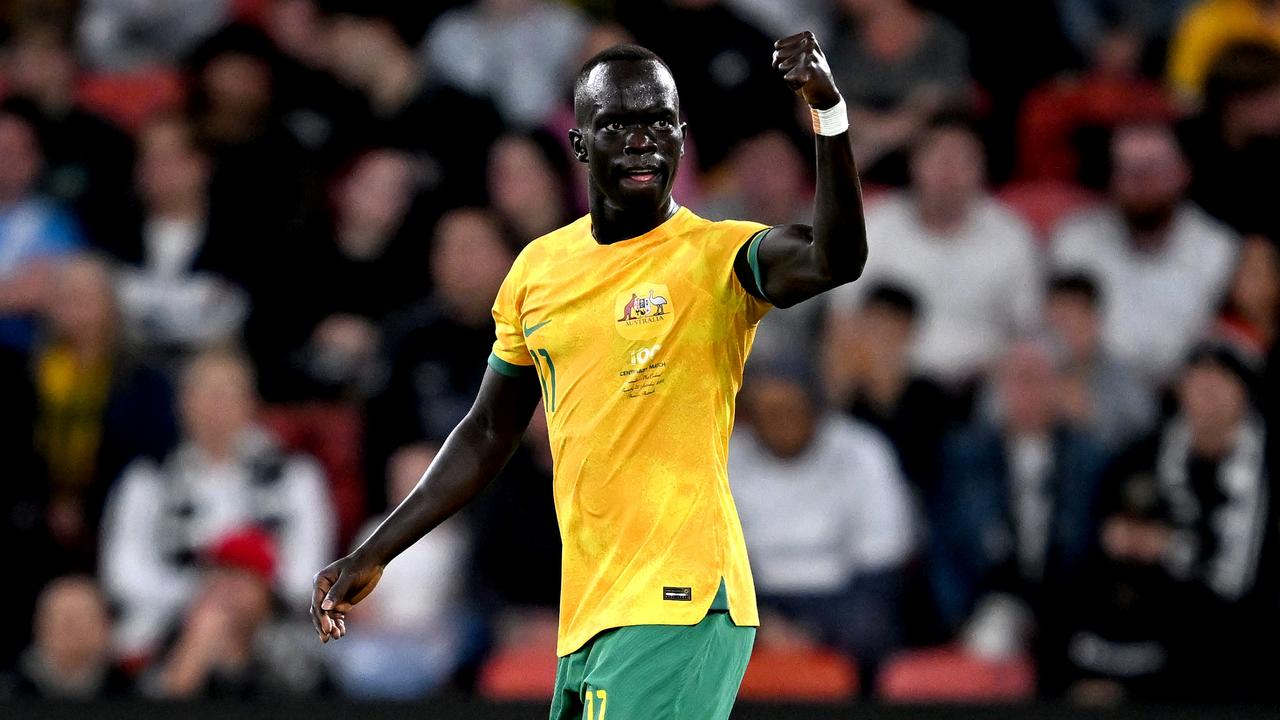 "Then it was a matter of staying with him in his room for 12 hours. He rang his mother who was on holiday in Kenya at the time. It was really, really tough."
Being the one to inform a player of such news wasn't exactly something Arnold was ever taught to do, nor would most other coaches.
But, for Arnold especially, it's "part of coaching these days" simply because the "caring factor for the person is so important."
In the following years, Mabil has provided several memorable moments for the Socceroos but perhaps none more so than converting a penalty in the all-important shootout against Peru to help get the Aussies to the World Cup.
At the time, Mabil stated the goal "was the only way to say thank you to Australia" from him and his family for taking them in as refugees.
But Arnold was full of perhaps even more joy when the 27-year-old picked up a monumental award in January.
"I was so proud the other week when Awer won Young Australian of the Year," Arnold said.
"Where the kid grew up as a refugee and everything down in South Australia, what he's done and what he's doing is leading by example to all the refugee kids that there is a life."