The "RHOBH" star says she's "offended" and "angry" by the accusations that she's taken the weight loss drug.
Kyle Richards is addressing speculation that she's used Ozempic to lose weight …. again.
In an interview with People at Elton John's 31st Annual Oscars Viewing Party in Los Angeles on Sunday, the "Real Housewives of Beverly Hills" star doubled down on her denial that she used the antidiabetic and anti-obesity drug for its weight loss benefits, claiming she's "never touched" Ozempic.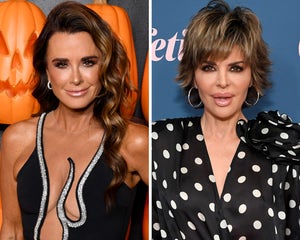 Getty
Kyle Richards On Where She Stands with Lisa Rinna After Her RHOBH Exit

View Story
"I didn't even know about Ozempic until I'd already lost the weight I wanted to lose," Richards told People. "I started losing weight eight months ago, actually, because I stopped drinking alcohol eight months ago. At first I was like, 'Why are they saying I'm taking this diet drug?' Then they thought, 'Well, maybe it's another kind,' because I was saying, 'It's not Ozempic.'"
The reality star said she's "offended" and "angry" by the accusations that she's taken the prescription drug as she claimed she achieved her weight loss by exercising and eating healthy.
"It wasn't any diet drug ever, never touched it," Kyle said. "So it really just frustrated me because I'm working out really hard."
"I became offended because it actually is irresponsible and I'm hearing about diabetics who can't even get ahold of it now," she continued. "So then it became, 'Okay, now I'm mad. Now I'm actually really angry,' because I wouldn't do that. I'm very honest about anything I do and I would've not had a problem sharing that if that was true."
Kyle added, "I'm working so hard and I wanted to be a positive role model or an inspiration to people that have had kids and are my age and show that you can get in shape. So it just felt like they wanted to take that from you and I'm like, 'That's just cheating.'"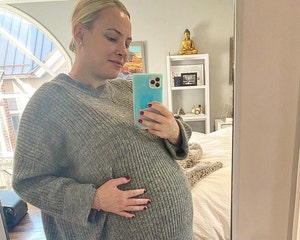 Instagram
Meghan McCain 'Urged' to Take Ozempic After Giving Birth

View Story
Many fans first accused the 54-year-old of using Ozempic or getting plastic surgery back in January after she showed off her new slim figure in a bikini selfie on Instagram.
Kyle was quick to clear up rumors on IG, clapping back, "I have never tried ozempic and this is not from plastic surgery. I did have a breast reduction in May. I'm honest about what I do. But if giving plastic surgery the credit makes you feel better then pop off sister."
Then last month, the Bravo star again claimed that she hasn't used Ozempic, sharing in an interview with "Extra" that she "cannot stand people saying" the drug is responsible for her new gains.
"People that know me know that I'm up every day at like 5:30 a.m., 6 a.m. at the latest … I'm in the gym for two hours," she explained. "I really put a lot of effort into my diet and exercise and taking care of myself, so when people like to think I took the easy way out, it's frustrating."
The actress said that she's choosing to ignore negative speculation around her body though it may be tough. "Sometimes I turn my cheek the other way and ignore it, but I work really hard and it really bothers me, and I would like to be able to be an inspiration to people," she admitted. "So don't think I took the easy way out."
Waiting for your permission to load the Instagram Media.
Meanwhile, Kyle later took to Instagram to open up about some of the lifestyle changes she's made in order to achieve her body transformation.
After she shared her morning workout routine on Instagram, Kyle also took time to answer a few questions about her new diet.
One fan asked about her break from alcohol and how abstinence from booze has affected her.
"Truth is I don't miss it at all," Kyle confessed. Though she doesn't have a "time frame" of when she'll reintroduce alcohol back into her lifestyle, the TV personality revealed she's now been seven months sober. "I feel amazing so don't see the point right now."
When another follower asked if she missed her favorite cocktail — the margarita — the "Halloween Ends" star said she hadn't had the temptation to drink. "So far, no … " she said.
Kyle also spoke about her eating habits, writing, "NO alcohol, bread, pasta, sugar. "Now that I am the weight I want to be, I will have the occasional small amount of pasta etc once in a while. But no alcohol since July 15."