The "Jane the Virgin" star first revealed her pregnancy on her birthday last July via Instagram, sharing that husband Joe LoCicero has been training to be her doula for the birth.
It's a "Virgin" birth for Gina Rodriguez, as the "Jane the Virgin" star and her husband Joe LoCicero have welcomed their first child. The stars met on the set of the hit show when LoCicero guest-starred as a stripper in 2016. They wed three years later.
While neither star has opened up publicly about the birth, a rep for Rodriguez confirmed the news to PopSugar, while Page Six shared some candid pics of the proud new mama walking in Los Angeles with her new bundle of joy.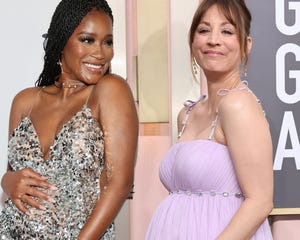 Getty
15 Celebrities Giving Birth in 2023

View Story
Perhaps the couple is enjoying their time with the first child for either of them. Rodriguez has not been shy in opening up about her pregnancy journey on social media, so we can assume she'll update her fans when they're ready.
Most recently, she shared a 40-weeks-pregnant update to Instagram that doubled as a promo for the February 8 premiere of her new show, "Not Dead Yet" on ABC. Rodriguez first broke the news to her followers in a celebratory post in July.
"This birthday hits different," Rodriguez captioned the carousel of images, which included a shot of a positive pregnancy test. She spoke with Entertainment Tonight about the journey a month later, sharing just how involved LoCicero was going to be during the experience.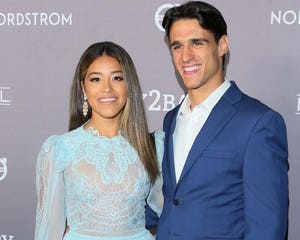 Getty
Pregnant Gina Rodriguez Shares Her Husband Joe LoCicero is Training to Be Her Doula

View Story
"I'm taking some hardcore prenatal classes, working on that pelvic floor," Rodriguez said, adding that the couple have also been watching live-birth videos to prepare themselves for the realities of labor. "My husband is training to be my doula. He's really next level."
Taking on the role of her doula, LoCicero will be very hands-on during the birth, "He's magical," she gushed. "He's definitely the better half, so I'm hoping that he'll just go on in there and pull our baby out."
It remains to be seen if that's what happened, but fans can assume that sooner or later, Rodriguez will again share her experiences with them, this time as a new mother.
Maybe then we can find out if it's a boy or a girl and what name the couple has chosen, too! So far, based on the snaps Page Six got, we can at least say baby has cute little legs and arms!