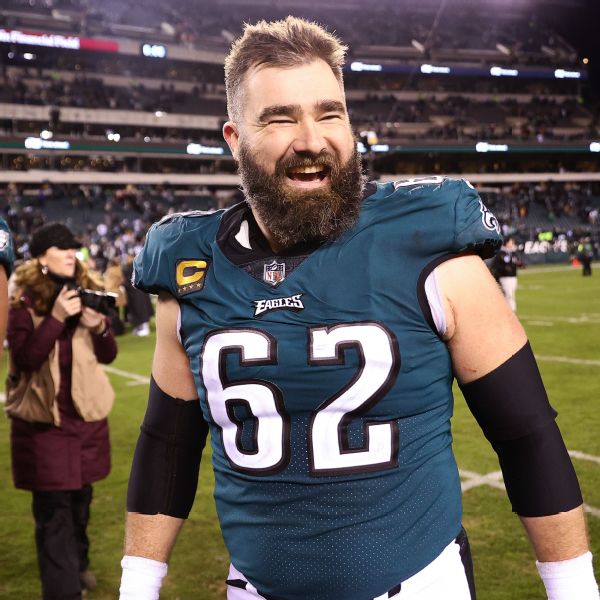 PHILADELPHIA — Eagles center and longtime captain Jason Kelce announced he will return to the team for a 13th season.
"I have put much thought into whether it makes sense to play another season," Kelce tweeted Monday. "After talking it over with my wife and many other friends and family, I have decided to return for another year. Thank you to all my supporters and detractors for fueling me."
A free agent, Kelce can't officially re-sign with the Eagles until Wednesday when the new league year begins.
Kelce, a six-time Pro Bowler and five-time All-Pro, won Super Bowl LII with the Eagles, but fell short of a second title as the Eagles lost in Super Bowl LVII to the Kansas City Chiefs. That game had even more significance for Kelce as he was playing against his brother, Chiefs star tight end Travis Kelce, and Kansas City coach Andy Reid, who drafted Jason Kelce to Philadelphia in the sixth round of the 2011 draft.
The 35-year-old Kelce has been contemplating retirement for several seasons but has adhered to the advice of the late Howard Mudd, his former offensive line coach: "When in doubt, don't."
The Eagles did everything they could to keep him coming back, with coach Nick Sirianni even having a keg of beer delivered to Kelce's residence last offseason in hopes it would encourage him to play again.
At his locker following Super Bowl LVII, Kelce gave some insight into the things he contemplated prior to making the decision.
"You try and weigh whether you think, one, you can still do it at a high level, and two, whether you want to do it," Kelce said. "I think that's the big thing. It's a grind. I know that I could still probably come back and perform at a high level or a good level.
"It's getting harder every year. I'm nowhere near the player I used to be. Jalen Hurts makes all of us look a lot better and makes my job a lot easier. It's only going to go [downhill], and whether you can be accountable to your teammates and perform at that level and mentally you have the energy to be the difference maker that I feel I am in that regard, all that stuff will factor in."